Texts
The primary text for this course is A New, New Testament edited with Commentary by Hal Taussig with a forward by John Dominic Crossan. Supplemental resources will be added during the course.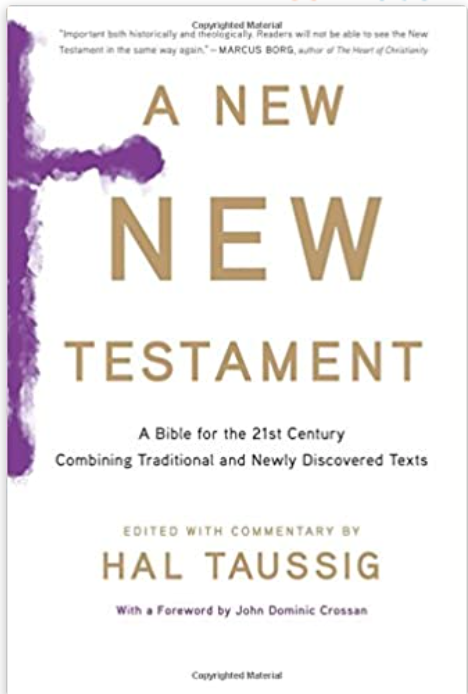 About A New New Testament from Amazon.com:
"Important both historically and theologically. Readers will not be able to see the New Testament in the same way again."—Marcus Borg, author of The Heart of Christianity
"A New New Testament does what some of us never dreamed possible: it opens the treasure chest of early Christian writings, restoring a carefully select few of them to their rightful place in the broad conversation about who Jesus was, what he did and taught, and what all of that has to do with us now." — Barbara Brown Taylor, author of Leaving Church and An Altar in the World
There are twenty-seven books in the traditional New Testament, but the earliest Christian communities were far more vibrant than that small number might lead you to think. In fact, many more scriptures were written and were just as important as the New Testament in shaping early-Christian communities and beliefs. Over the past century, many of those texts that were lost have been found and translated, yet are still not known to much of the public; they are discussed mainly by scholars or within a context of the now outdated notion of gnostic gospels. In A New New Testament Hal Taussig is changing that. With the help of nineteen important spiritual leaders, he has added ten of the recently discovered texts to the traditional New Testament, leading many churches and spiritual seekers to use this new New Testament for their spiritual and intellectual growth.
"Remarkable . . . Not meant to replace the traditional New Testament, this fascinating work will be, Taussig hopes, the first of several new New Testaments." — Booklist
Complete and Continue