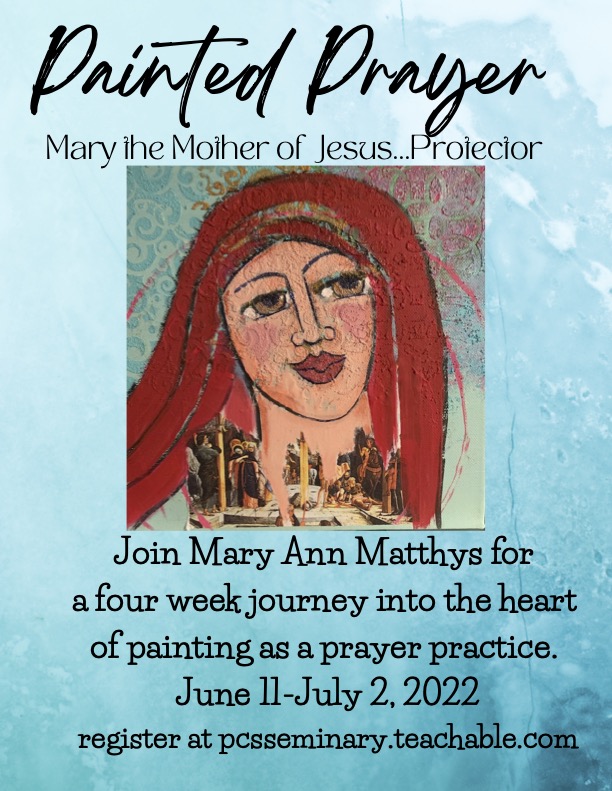 Painted Prayer
Mary the Mother of Jesus...
Protector
Join Mary Ann Matthys for a four week journey as we paint our prayer. We will meet weekly to paint together. Each week's module will contain invitations to journal, sketch, listen to music and adopt a contemplative stance toward life and the Divine.


about Mary Ann
Mary Ann Matthys, MA, CSD is a Spiritual Director, Experienced Retreat Facilitator and Artist. Mary Ann is currently studying to become a priest in the ARCWP movement. Mary Ann values exploring the spiritual journey through the lens of Art as Process. Mary Ann currently teaches with the Charis Spiritual Direction Training Program in Texas. She is an experienced Retreat Facilitator who loves crafting beautiful experiences for her Beloveds. Painted Prayer was born out of a sincere desire to illuminate a path toward the Divine that embodies love at the center of life and invites a deep communion with the presence of the Holy One throughout all of life. 
Mary Ann studied at the Glassell School of Art in Houston and holds a Master's Degree in Sacred Texts and Images from the University of Houston Clear Lake. Her art has been featured in juried exhibitions and graced the walls of a local gallery near Houston. Mary Ann finds art as process to be a valuable way to navigate the interior regions of one's soul. It is a way to process the joys, sorrows, ups and downs in life. The creative process invites us to celebrate our joys and successes, as well as work through the rough places in life. It has been a priceless way to navigate this time of corona in 2020 and 2021.
Mary Ann currently teaches with Musea Intentional Creativity Collective, BeADisciple and the People's Catholic Seminary. 
She is a Color of Woman Teacher, and Licensed JourneyCircles Facilitator.
As a clergy spouse whose husband is an Ordained Elder in the Methodist Church, Mary Ann has a unique insight into ministry, spiritual formation and life in Christian Community. 
Check your inbox to confirm your subscription